Biography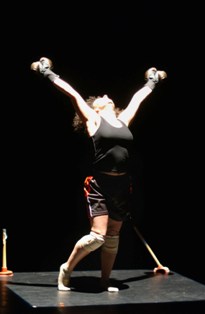 Laura Virgillito
Born in Trieste – Italy, started in early age with a Classical and Contemporary dance education.
In the early 90th takes part in Rome to a professional dancer educational program by Renato Greco. And in 1992 moves to New York. She concludes her dance education at the Martha Graham School for Contemporary Dance, and keeps exploring movement and dance technique at the Alvin Ailey Dance
Centre, Dance Space, by Zvi Gotheiner and the Broadway Dance Centre. In New York City she dances among other with Val Suarez, and the Freeman Repertory Dance Compan.
Since 1997 Laura lives in Germany and is a freelance dancer, performer, co-choreographer, guest teacher for Contemporary Dance and GYROKINESIS®, in theaters, dance companies and dance institutions. Among other she dances with the "Rodolpho Leoni Dance Company" and the "x.x.y. Theatre" – Geraldo Si, and assists several freelance dance projects.
She is teaching at the Choreographisches Zentum Pact Zollverein Essen, Tanzhaus nrw Düsseldorf, Amanda Millers pretty ugly tanz köln, FolkwangTanzStudio Essen, Barnes Crossing Köln, VA Wölf/NEUER Tanz Düsseldorf, Stadttheater Bielefeld, and gave workshops in Greece and in Italy.
Since 2005 she leads her own studio - MOviNg ATelieR – for GYROTONIC®, GYROKINESIS® and dance… in Cologne.